Are you bored of using Omegle and looking for something new? Fortunately, there are various websites like Omegle, and in this article, we will cover some of the best ones.
Omegle is AWESOME! It is a free online chat website where users can socialize with strangers without creating an account. It follows a great concept; once you visit the site, it automatically connects the chat with people you don't know. You can find girls on Omegle, share your interests, and hobbies, and exchange your thoughts when connected either on text or video chat.
Best Websites Like Omegle (Alternatives)
As always, there are lots of sites, or you can call Omegle alternatives that exist on the internet that let you chat with strangers online. In this article, we will be discussing some other websites like Omegle, which helps a person to connect with new folks.
Note: The sites mentioned in the blog post are suitable for all people. Some sites are unmonitored and unmoderated and due to this reason we flair this blog post has Not Safe For Work.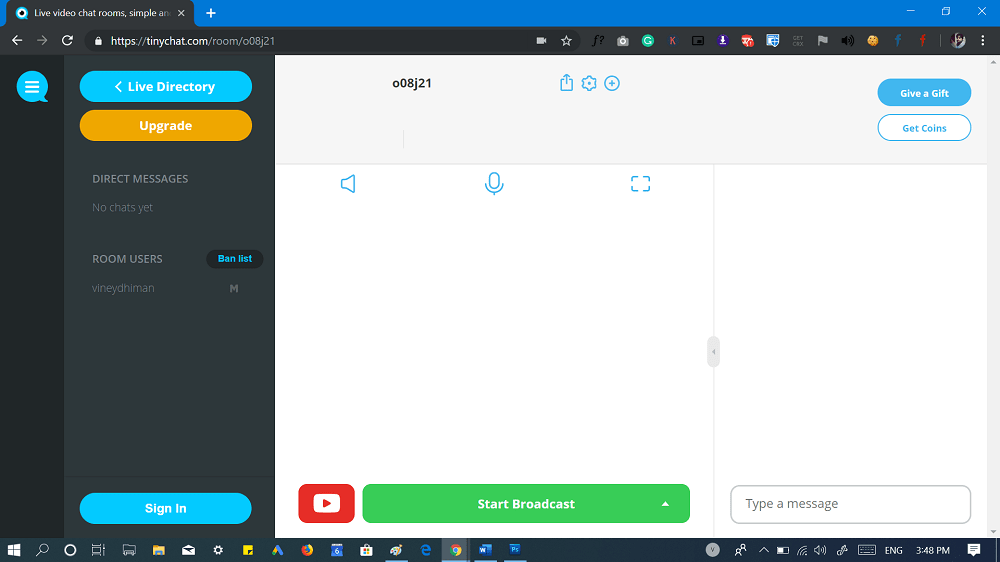 Tinychat offers free video chat rooms. There you can find new people and create your chat room. No signup, No Downloads, and No Problems!
Camfrog is an international platform to chat and make new friends across the globe. There you can make free video chat rooms, video conference online group chat, and live webcams.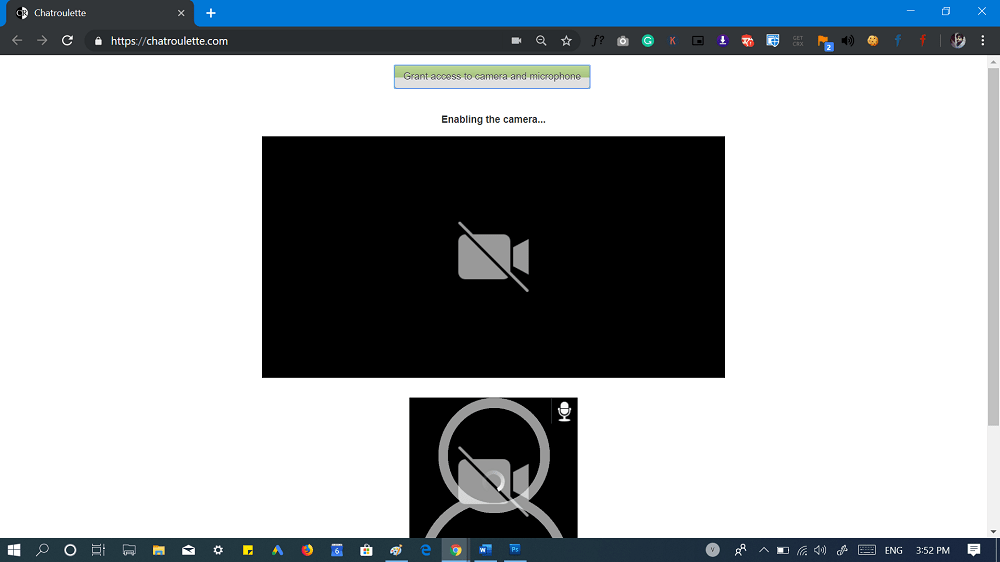 Chatroulette lets you make video chats with random people all across the globe. It offers a feature that blocks unwanted people.
Chatrandom is a free random video chat app using which you can meet random people using your webcam. It is somewhat similar to yahoo messenger.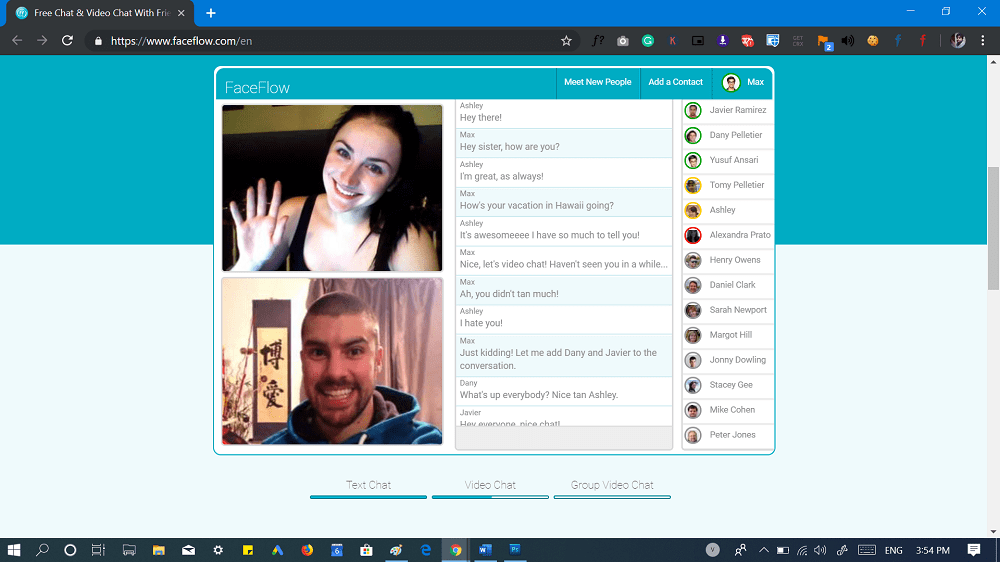 Using Faceflow you can make free text and video chats with friends online. After creating an account on the website you can meet fantastic new people all across the globe.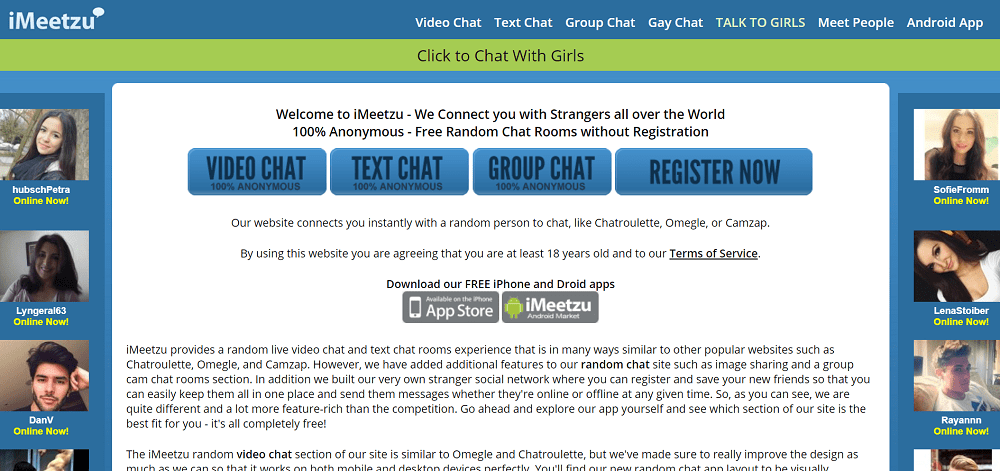 With Imeetzu you can chat with a random stranger instantly. It is counted as one best alternative to Omegle, Chatroulette, and Camzap. Initially, it was a pure text chatting site but gradually features like video chat and dating have become part of it.
Yapchat offers a free webcam chat room. Using it, you can make new friends all across the globe using a text or webcam chat.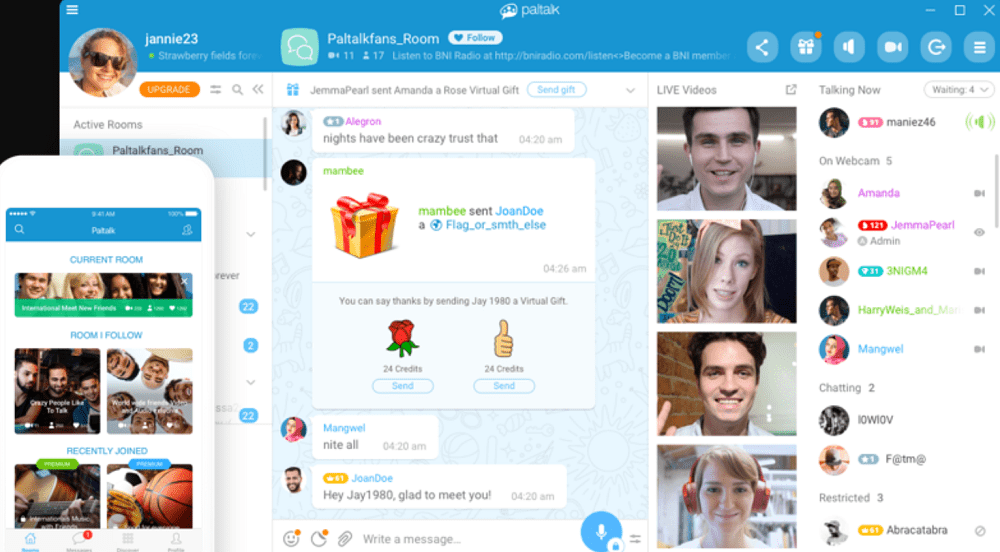 Paltalk is counted as one of the biggest video chat room communities available on the internet. Explore free video chat rooms to meet new people and make new friends by making quick chats and video calls.
Chatpig is a free cam chat website where you will get connected with random people all across the globe for some hot video chat fun.
On Bazcoocam you can chat with random people that live near you and are using a webcam. It is free to use service and requires no registration.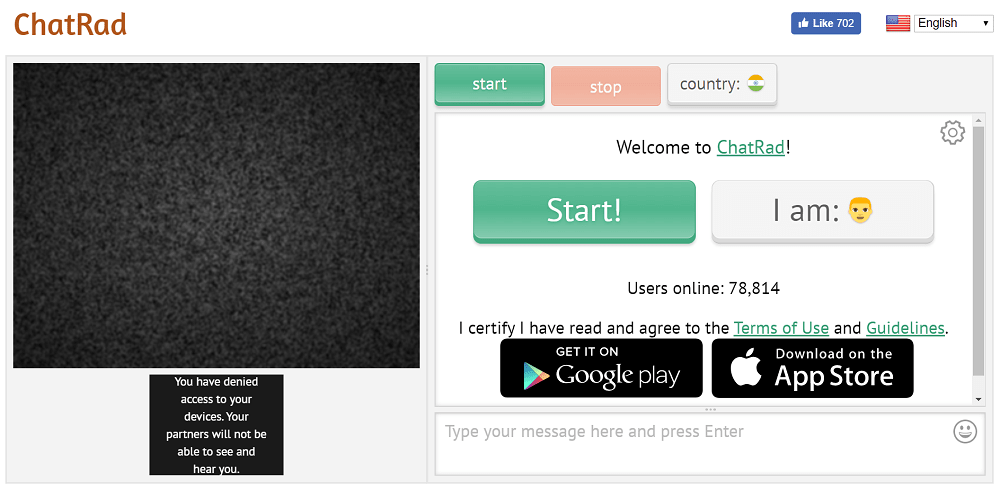 ChatRad is a free random chat site like Omegle. On the site, you can find meet new people, sing a song, find romance, play an instrument, talk to strangers and have fun doing random cam chats.
Fruzo is a good place if you want to socialize with strangers, meet new friends, and find a date. You can video chat with people who live near your or in other parts of the world.
Chatki is another site like Omegle which is powered by Chatrandom. On the site, you can make chats with random people using your webcam.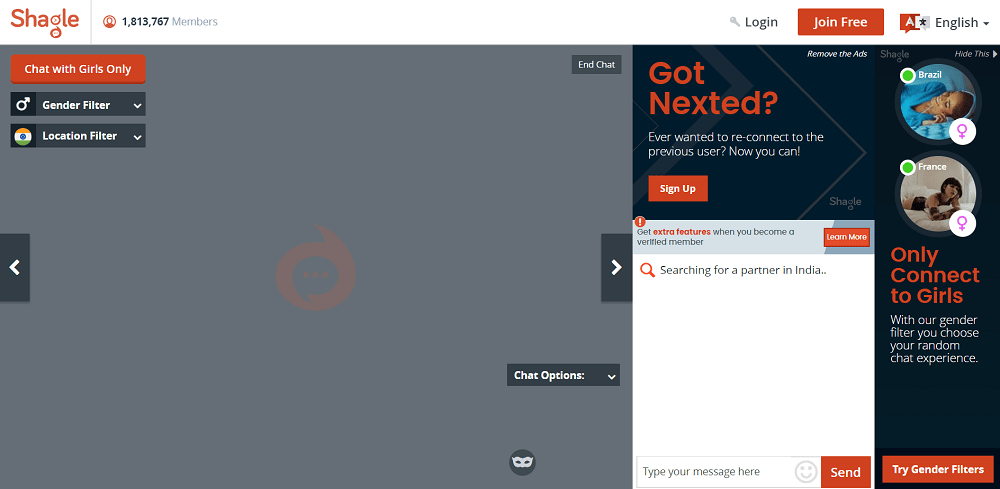 Shagle is a free random video chat service available on the internet that offers a live cam to cam chat with random people.
ChatHub is a good alternative to Omegle. It gives you an option to choose your chat partners as per your preferences like gender, language, and the country as well.
Chatspin is a free random video chat app with features like a facemask, private chat filters, and many other features to customize your chat.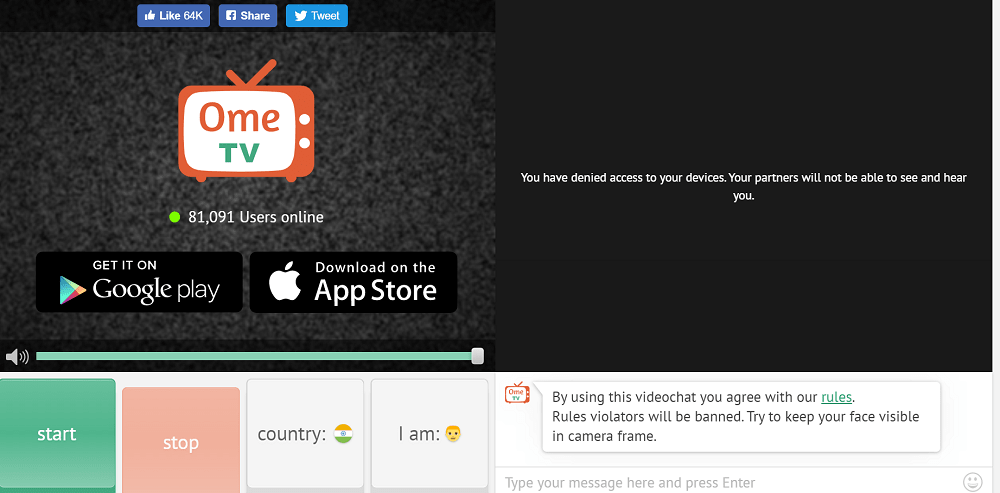 Ometv is a Chatroulette type of site using which, you can do free web chat with strangers across the world; it is another excellent chatting site like Omegle.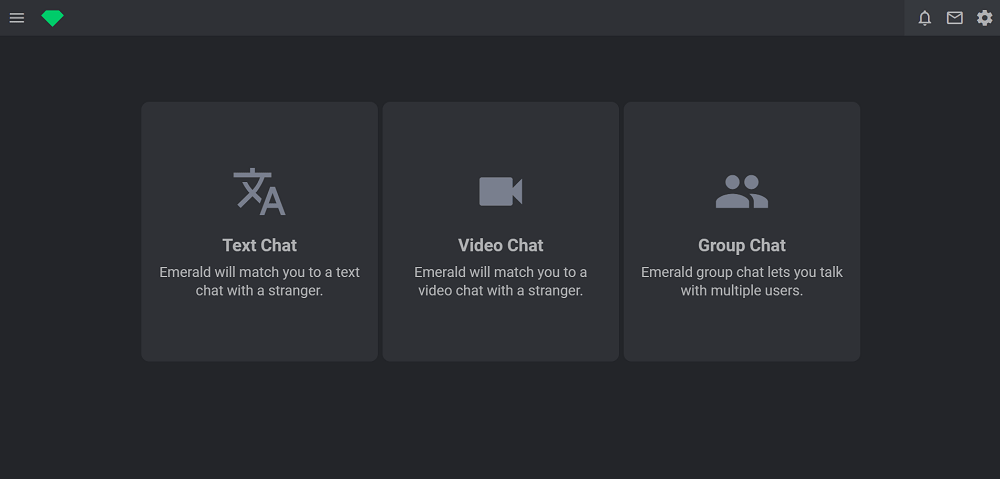 Emerald is another great Omegle alternative and offers a modern chat experience. On the site, you can get connected with random people around the world. You can get started either via Text Chat, Video Chat, and Group Chat.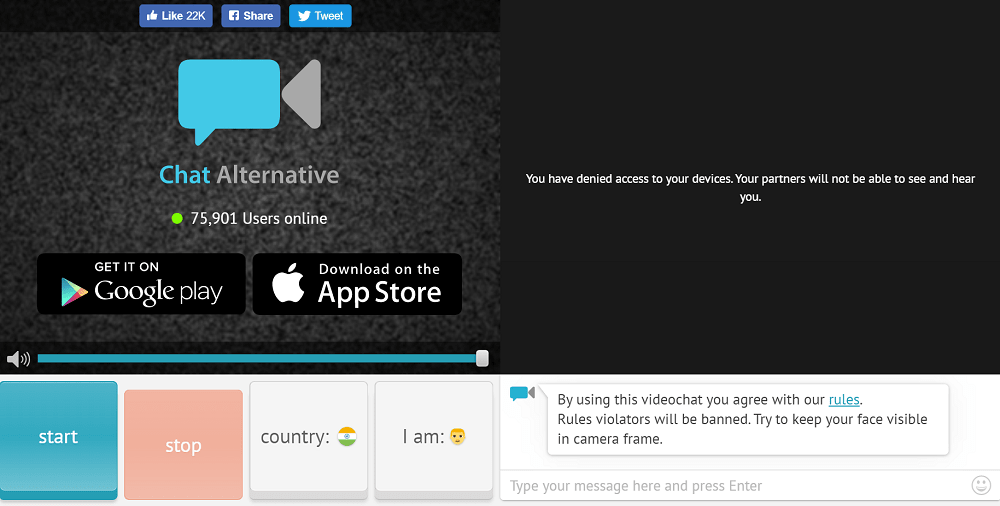 Video Chat Alternative is a random online dating site for people who want to chat with random people. On the sites, you can talk to a stranger and make new friends all across the globe.
With Camsurf, you can make video chats with random people instantly. These video chat sites make it easier for people to get connected with new people around the world.
FunYo makes it easier for you to meet strangers around the world with the help of a webcam. It offers users the ability to get connected with random people in particular countries or just with girls.
22. Camgo
No matter what you look for in an online social connection, Camgo's cam to cam chat probably has it. You can enjoy both webcam and text chat options; each user gets to decide how long they stay in a chat, and it's easy to focus on a specific topic to get more accurate matches.
You could be looking for friendship, romance, or just basic interaction – no matter what you want, there are thousands of potential matches on Camgo waiting to be discovered. We all need social interaction every once in a while, and if we can get it without even having to go out of the house, so much the better!
Chat Safely when you are online
It is a well-known fact across the globe that everybody loves to chat anonymously or with their names. It is one of the favorite pastime activities for everyone. But sometimes when they are lost in their flights of fantasies, they compromise on their security, people get so engrossed while chatting that they forget the limitations while chatting with strangers and sometimes they face repercussions beyond their imaginations.
Here are a few points that should be kept in mind while chatting with strangers:
Refrain from sharing your personal information.
A fake email-id should be created specifically to chat.
Always remember that your chatting id should not be connected to your Facebook profile. You can create a fake Facebook profile.
Its risky to meet the person with whom you chat avoid going alone or restricting yourself from meeting face to face with strangers.
Sometimes people record the chat and they might make you awkward by recording some unwanted content.
Be careful of scammers.
Safety lies in your own hands. Chatting is a great fun activity however, it is very important to keep ourselves safe from getting trapped in any such unwanted things which are troublesome for us.
So these are some of the best alternatives to Omegle. Which one do you find best? Are there any good sites like Omegle that we forget to mention in the blog post? Feel free to share it in the comments.